Friday Fashion: Yiqing Yin Haute Couture F/W 2012
Early July marked Haute Couture Fashion Week in Paris. I'm always eager to see the imaginative concoctions of the world's top designers. Of course, the shows were beautiful – Elie Saab, Armani Prive, John Paul Gaultier, etc. produced noteworthy collections. But I'd like to introduce you to a lesser-known couturier, Chinese-French designer Yiqing Yin.
Of course, I didn't love every look; but some of them were really fascinating. Others, downright pretty. The collection featured incredibly intricate pieces like the one above. The details and edges seem reminiscent of a paper sculpture. In fact, Yiqing notes, "I've always loved arts and crafts until I went to arts school. I thought I would become a sculptor, and then I encountered textiles and discovered their sensual quality." Conversely, the ombre pieces below floated down the runway with an airy ease.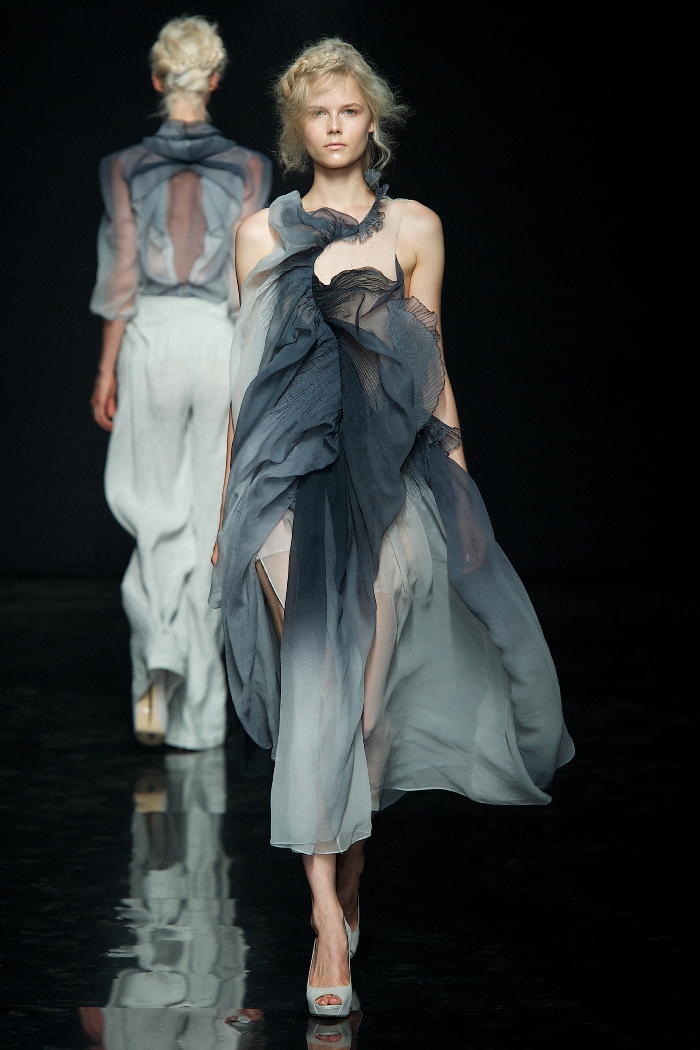 The finale look, Cage, was both familiar and completely alien at the same time. The coloring and materials remind me of a peacock. The bird becomes the cage? I'd definitely put this in the "wearable art" category. And although she looks completely naked beneath, I'm surprisingly not offended.
I'm looking forward to more of Yiqing's work. Can't wait to see what Spring has in store.
Images: (1-3, 5) Soji Fugii, (4) ImaxTree